Community
Although prayer is the centre of our life and our official work (Liturgy comes from a Greek word meaning work!) we also have to run the house and garden, try to earn our living, look after our elderly and sick sisters and receive the guests who come to visit or stay with us. All this has to be fitted into the daily timetable of prayer.
The garden provides some of our fruit and vegetables and an abundance of soft fruit much of which is turned into jam for sale, though the sloping nature of the ground and the stony soil don't make for easy cultivation.
Cards, notelets, posters and prayer cards are made which we sell in the church porch. Modern computer technology is a great help in this though we do produce a few hand painted cards for special orders. Knitted goods are also made for our annual sale.
Some sisters give spiritual guidance to those wishing for help in following the Lord more closely in their lives.
Generally we try to keep silence in our work and as we go about the house but time is also set aside for recreation in community together. On feast days, special anniversaries and Sundays there is more time for talking and celebration together as well as time when we can follow our own interests and hobbies.
On most days there is also a period of free time when we can share together or spend time in our preferred individual ways of relaxing.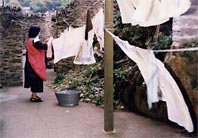 Sr. Christina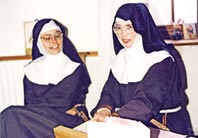 Sr. Maximilianne and Sr. Bernadette